Big Sky is famously known for its world-class year-round recreational opportunities and close amenity to Yellowstone National Park. Straddling two counties, there are four central areas of resort development – Big Sky Resort, Moonlight Basin (part of Big Sky Resort encompassing the north side of Lone Mountain and adjoining land areas including areas off Jack Creek Rd, Spanish Peaks (private ski/golf community) and Yellowstone Club (private ski/golf community). Knoff Group Real Estate has created a summary of the newest development announcements of amenities and improvements coming soon.
Lodging and Ski Improvements in Big Sky
Montage Hotels and Resorts, a luxury brand, will be opening Montage Big Sky in 2021. The hotel is located in exclusive Spanish Peaks and will offer 150 guest rooms and 39 all amenity residences. These residences qualify for membership to the Yellowstone Club. Amenities include ski-in, ski-out access, on-site accessibility to Spanish Peaks' Tom Weiskopf designed 18-hole golf course and close proximity to Montana's vast outdoor playgrounds. Resort amenities will include fine dining, a bowling alley, indoor lap pool, family swimming pool, signature Spa Montage and more. https://www.montagehotels.com/destinations/big-sky/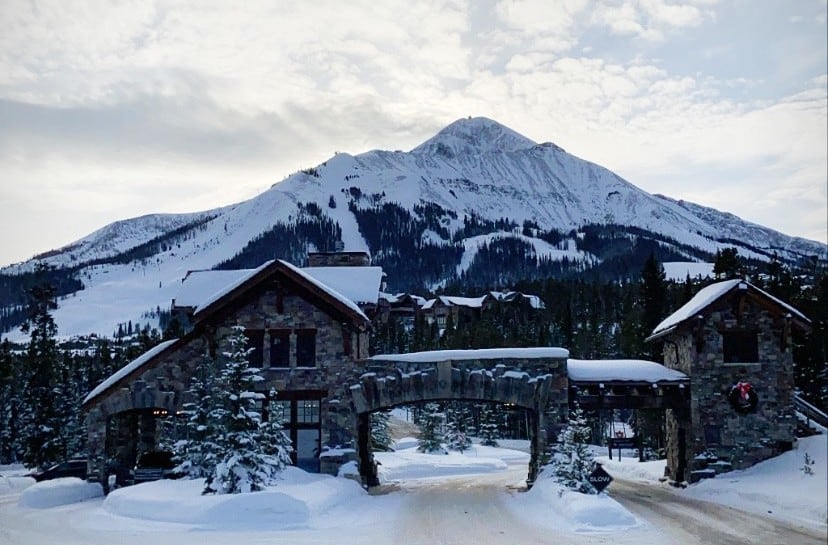 The award-winning One & Only luxury resorts will be opening its first United States location in Big Sky, Montana. While the opening date has not been confirmed, this highly anticipated resort will add even more luxury to the up and coming Big Sky. The resort will be located at Moonlight Basin. https://www.oneandonlyresorts.com/

The Huntley Lodge, located slope-side in Big Sky's Mountain Village, will begin a significant renovation of its 200 hotel rooms in spring 2021. The hotel will keep its unique architectural design while adding a more modern mountain luxury theme to the hotel. https://bigskyresort.com/huntley-lodge

Big Sky Resort, the second largest ski resort on the continent, has announced the installation of a major new chairlift, Swift Current 6, for the 21-22 winter season. This new D-Line, six-person, high-speed chair is the fastest six-person chairlift in North America. It also has ultrawide heated seats with a signature Big Sky Blue Bubble. https://bigskyresort.com/
Big Sky Resort's 2025 plan outlines a $150 million vision for the next decade. Big Sky Resort plans to build the most high-speed, high-tech lift network in North America by 2025. This would include a new North Village gondola, replacement of core lifts with bubble six-packs and additional lifts to serve greater areas of terrain.

In 2019, in line with the 2025 plan, Big Sky Resort renovated their base lodge, "The Exchange". Located in The Exchange is the modern Vista Hall, featuring six food and bar options, the Westward Social restaurant and an enhanced outdoor plaza area. Additionally in 2019, Big Sky Resort introduced the world's first dual-frequency RFID scanning technology, which enables hands free scanning and direct-to-lift access from inside a pocket. Levinski parking area also opened, providing a 500-spot additional day parking lot near the base lodge.
The Yellowstone Club, a private residential club, ski resort and golf resort has had numerous additions and renovations in the last year. Completed in the summer of 2019, The Village at Yellowstone Club features three new buildings, two with amenity spaces on the first floor and residences above. Two new dining restaurants were added, one boasting Asian-inspired cuisine and the other roadhouse-style. Other additions include an apres ski bar, a market, a 3,230-square-foot fitness center and exercise room as well as an indoor pool.
The Village also features a new spa, joining several other on-site spas at the club. BraytonHughes, an SF design firm designed the spa. They used natural textured materials and finishes, making the spa an extension of the natural environment rather than an isolated amenity. As guests enter the space, they are met with different rooms of organic shapes as if inside the Earth.
The Barn is the Yellowstone Club's newest amenity and is now available for concerts, weddings, parties and private events. Their first big event, taking place early last year, was an Abaco Relief benefit concert featuring Keith Urban to kick off 2020. https://yellowstoneclub.com/
New Restaurants in Big Sky's Town Center/Meadow Village
Blue Buddha Sushi Lounge, located in Big Sky's Town Center is a new addition this year. They pride themselves on traditional sushi with a modern twist, coupled with a fun, relaxing atmosphere. https://bigskybluebuddha.com/
Dough is Big Sky's newest doughnut shop, located inside the China Café in Town Center. Rows of homemade doughnuts fill the counters, with flavors ranging from cinnamon sugar, vanilla sprinkle, brown butter glaze, chocolate and more. A portion of all proceeds support The Bakery Project, a nonprofit in Uganda that helps women learn the trade of baking and selling their baked goods. https://www.instagram.com/bigskydough/
Copper Restaurant and Whiskey Bar recently opened a Big Sky location, joining their other location in downtown Bozeman. They are located in the hub of Big Sky, the Town Center. Their menu features a variety of small plates, burgers, soups, salads, steaks and more. They also have a full bar with various cocktails, dessert drinks and a happy hour. https://coppermontana.com/big-sky
Pinky G's recently opened a second location in Big Sky's Town Center, adding on to their original location in Jackson, WY. They are known for their hand tossed pizza, music, sports, cocktails and of course, beer. Stop in for their $8 lunch special, which includes a slice of pizza, salad and a soda. https://pinkygs.com/bigsky/
Niseko Ramen Bar is a unique ramen and cocktail bar that recently opened in Big Sky's Town Center. They pride themselves on blending Japanese cuisine with a Big Sky flair, delivering savory bowls of ramen, creative cocktails and delicious appetizers. Niesko, Japan is home to four ski resorts and is known for some of the biggest skiing in Northern Japan, hence the name of the restaurant. https://www.nisekoramen.com/
Acre Kitchen, new to Big Sky's Town Center, offers healthy and organic fare from Montana's local lands. They serve brunch, lunch, dinner, wine and cocktails along with a full coffee shop open daily. Whenever possible, they source their ingredients organically and locally from Montana. Be sure to stop in for a relaxed dine-in experience that you won't forget. https://www.acrekitchen.com/
The Rocks is a full service restaurant and liquor store, featuring a ton of options from soups, salads, appetizers and flatbread pizzas. Their menu includes non-GMO organic proteins and produce from natural farms all over the country. Newly located in Big Sky's Town Center, they are also known for their Montana made spirits and beer. https://the-rocks-tasting-room-and-liquor-store.business.site/