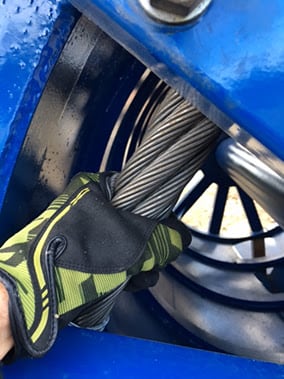 Winter is creeping down the mountainsides – there is already a foot of dense snow at elevations over 7000′!
Big Sky Ski Resort Lift Expansion Update
The heavy lifting is done.
The detailed work is in progress.
The crews are on schedule. 
Opening Day is Thanksgiving and crews are working diligently to ensure that our two brand new Doppelmayr chairlifts – Challenger and Powder Seeker –  are on schedule.
In the coming weeks, workers will install the haul ropes.   The Challenger rope, at 45 millimeters in diameter – is a bit wider than a golf ball.
In the meantime, crews are busy tightening bolts, surveying and aligning tower parts. It's these detailed tasks that may be small, but are infinitely important. All of the machinery – terminals, tension and brake systems, auxiliary motors, etc. – are installed and being adjusted. The final wiring for towers and terminals is underway and the lift operator houses are nearing completion.