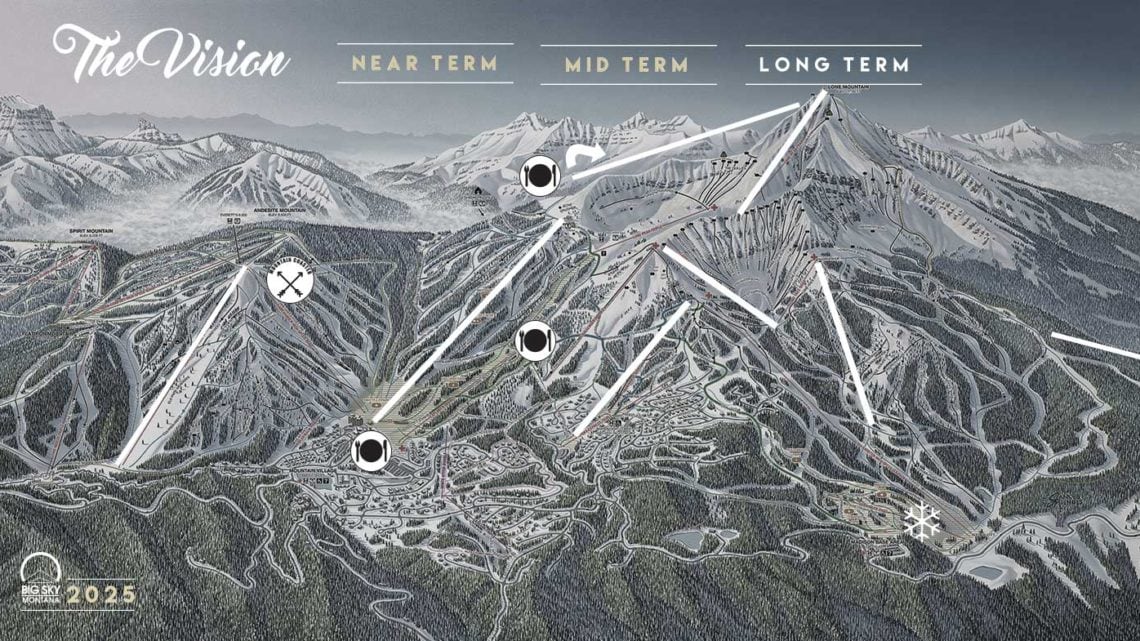 Big Sky Resort is stepping it up a notch with a 10-year plan that includes new lifts, renovations and night skiing. And no doubt new real estate offerings….

Big Sky Resort announces $150 million investment over next decade – Explore Big Sky
By Tyler Allen EBS Senior Editor BIG SKY – Sky Resort today announced a $150 million investment in a 10-year vision for future improvements to create a European-style ski resort experience.
The plan includes 12 new or upgraded lifts—including eight bubble-enclosed lifts, a gondola originating at the Mountain Village and a lift on the south face—night skiing on Andesite Mountain, 10 new restaurants, as well as extensive renovations and construction in the Mountain Village.
More than 30 Big Sky business leaders, community members and media representatives listened as Stephen Kircher described the ambitious vision at the Peaks restaurant in the Summit Hotel. Kircher is the president of Boyne Resorts' eastern operation and his father Everett purchased Big Sky Resort in 1976, three years after it opened.
"This is about making Big Sky not just bigger but making it better," Kircher said. "We believe we have a unique positioning statement that ultimately we'll roll out in the next decade where we become the American Alps."
A new lift at the base of the Moonlight terrain is planned, creating the longest lift-served vertical drop in the U.S. at more than 4,500 feet.
Kircher laid out the investment in near-, mid- and long-term phases, and many of the near-term projects have been completed or are under construction, including two new Doppelmayr lifts that are replacing the Lone Peak Triple and Challenger chairlifts.
Additional lift upgrades envisioned include Six Shooter, Ramcharger, Shedhorn, Iron Horse, Lone Moose, Swift Current, Thunder Wolf and a Lone Peak Tram capacity upgrade. New lifts would include a North Village Gondola, additional lifts in the Moonlight area and a chairlift that would access the south-face terrain that the tram services now.
The resort plans to offer night skiing off the Ramcharger lift, Kircher said, and the North Village Gondola will greet visitors near the existing tennis courts and where a future hotel will be built. The two-stage gondola will have a mid-mountain unloading station and top out at the bottom of The Bowl.
This capital investment will help accommodate an anticipated 650,000 annual visitors by 2025, and give Big Sky Resort international appeal. Employee housing, additional non-stop flights to Bozeman Yellowstone International Airport and expanded summer offerings—including more mountain biking trails, mountain coasters and high alpine ziplines—are also built into the plan.
Kircher said this is part of $1 billion he expects to be invested in the next decade in the Big Sky community, by the resorts, developers and other business interests.
"Our goal is to help guide that [$1 billion investment] … to make this the most livable, the most sustainable mountain location in existence."
Visit bigsky2025.com for more information.
Source: Big Sky Resort announces $150 million investment over next decade