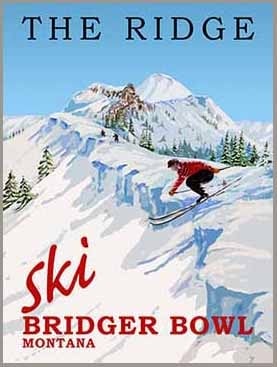 Considering a purchase in the Big Sky, Yellowstone Club or Bridger Canyon/Bridger Bowl areas? According to Mansion Global, it's not a bad investment, either…
U.S. West Ski Homes Continue to See Steady Investment
Stake your claim where snow and sky unite
By Jennifer Tzeses Mansion Global 10-22-17
With its bluebird days, powdery trails, and miles of terrain to cover, the West Coast of the United States is a skier's paradise.
Home to arguably the most beautiful and best quality ski resorts in America, it's no wonder the region is a sought-after haven for ski homes. "Aside from the obvious—some of the best skiing in the world—many of the locations [out west] are somewhat intimate so you can get to know the area and the people," said Jonathan J. Miller, president and CEO of Miller Samuel Inc., a real estate appraising firm in New York, who compiles a market report for Aspen.
"Buyers are attracted to the combination of high-quality skiing, year-round use, and active downtown areas," Mr. Miller said.
"Ski towns have a lot of appeal, especially to people who enjoy the outdoorsy nature, scenic views, and easy access to plenty of winter activities," said Svenja Gudell, chief economist for Zillow.
"Inventory is tight in most of these cities, as is the case across the country, but home values and prices really depend on where someone is looking," Ms. Gudell said. "In Vail, for example, homes are still appreciating at nearly double the national rate of 6.9%t, but in South Lake Tahoe, home value appreciation has slowed over the past few months to 4.3% annually. We have also found that higher-end homes are often more available than lower-end homes, which can bode well for these markets."
According to Douglas Elliman's second quarter report on Aspen sales, which Mr. Miller authored and believes is representative of the market as a whole for ski destinations on the West Coast, the median home sale price was $2.6 million. "However, there tends to be a lot of volatility in year-over-year trends, so the average price per square foot, $1,391, is a better indicator of market trends."
And according to a Knight Frank Ski Property Report, out earlier this week, Aspen's market is back, after a slowdown in 2016. "Aspen and Vail have seen sales and prices shift upwards in 2017 with the luxury end of the market performing strongly in year-on-year terms," according to the report. Colorado has the strongest international appeal of all the U.S. resorts, overall, the report said, and there were 26 sales priced above $2,000 per square foot in the first eight months of 2017, compared with 13 during the whole of 2016.
Source: U.S. West Ski Homes Continue to See Steady Investment