Valentine's Day is just around the corner and while this year's festivities may look different, that doesn't mean they can't be just as special. Knoff Group Real Estate has put together a list of ideas to help you enjoy a romantic outdoor Valentine's Day without breaking the bank.
5. Head out Nordic Skiing. Grab your partner, your layers, your cross-country skis and head out for an adventure filled day in Bozeman! There are many community Nordic ski trails around the area (groomed and ungroomed) that will fulfill your Valentine's Day needs. We love Bozeman Creek/Sourdough Canyon, anything up Hyalite Canyon, Bridger Creek Golf Course, and Lindley Park. Or check out Crosscut Mountain Sports Center in Bridger Canyon for top notch groomed trail options. https://www.crosscutmt.org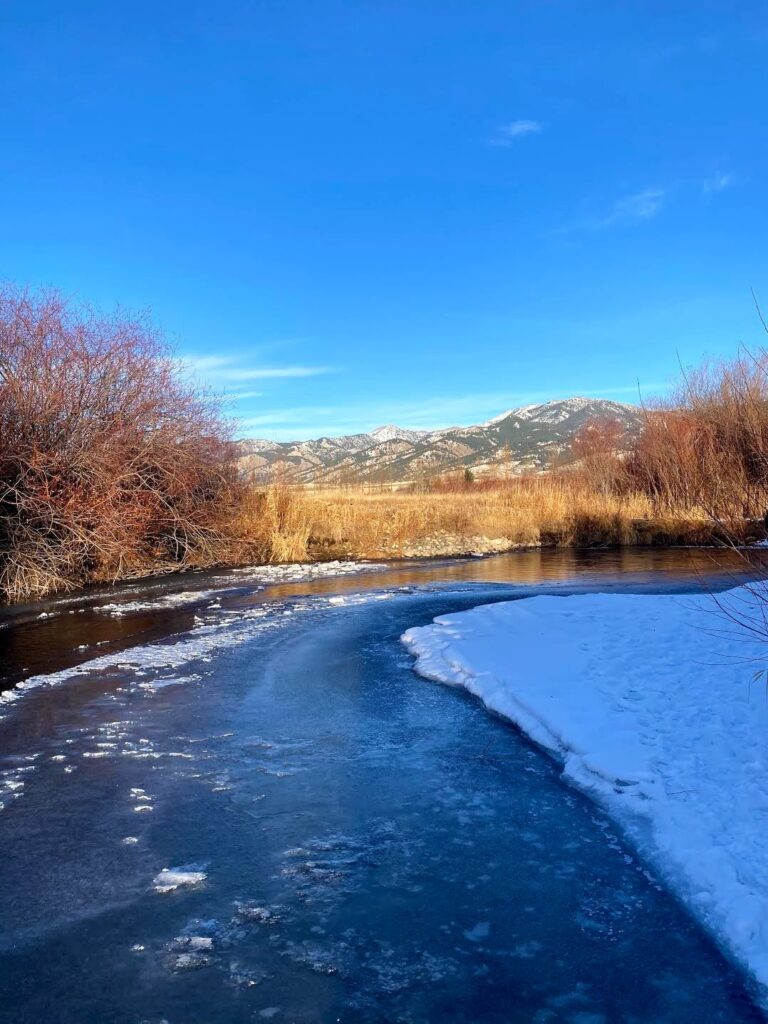 4. Take a winter hike. So far, this winter has given us tons of sunshine, so get outside and take advantage of it! There are many great local hikes around Bozeman in the winter – Cherry River, Sypes Canyon, Lava Lake, Drinking Horse, Sourdough, East Gallatin Trails, and so many more that make for a romantic day. (Picture is of Cherry River off Frontage Road).
3. We can't think of anything better than hitting the slopes for some downhill riding with your love on Valentine's Day, especially when it falls on a Sunday (hint, hint, 2021).
Bridger Bowl, Bozeman's local ski area is open with reservations required. You can make a reservation up to four days in advance. https://bridgerbowl.com
Big Sky Resort, about an hour south of Bozeman in Big Sky, MT is known for their world-class skiing. While they are allowing purchase of tickets at the ticketing windows, we recommend buying lift tickets off their website in advance. 
https://bigskyresort.com
2. Hot springs. A relaxing soak accompanied with music, drinks and food? We think yes! Bozeman and the surrounding area have many great hot springs options – perfect for a romantic soak.
Bozeman Hot Springs, located eight miles west of Bozeman, has 12 pools (both indoor and outdoor), ranging from 57-106 degrees. They do not serve or allow alcohol on site but do serve ice cream. https://bozemanhotsprings.co
Norris Hot Springs is about a 40-minute drive from Bozeman, but definitely worth the drive. They have one outdoor natural pool surrounded by beautiful views, making it extremely relaxing. They also have a small bar on site, offering appetizers and occasionally pizza, as well as beer, wine, and mimosas!
https://www.norrishotsprings.com
Chico Hot Springs is located in Pray, Montana, in the heart of the Paradise Valley. In addition to their two open-air natural mineral hot springs pools, they also operate as a hotel resort. They have a historic dining room with a full menu, a poolside grille, and a Saloon. Currently, due to COVID-19, day passes for the hot springs are limited and available on a first-come-first-served basis.
https://www.chicohotsprings.com
1. Yellowstone Park – yes please! Winter in Yellowstone National Park means fewer crowds, colder temperatures, abundant wildlife, and creative modes of transportation, whether that be snowshoes, skis, or snowmobiles – you name it! If you're hoping to visit Old Faithful during winter, you can opt for guided snowmobile or snowcoach.