Mid and late winter in southwestern Montana often brings snowstorms and great backcountry fun – but those not interested in gravity sports may be feeling cooped up. Knoff Group Real Estate has assembled a list of our favorite winter strolls to keep the cabin fever at bay.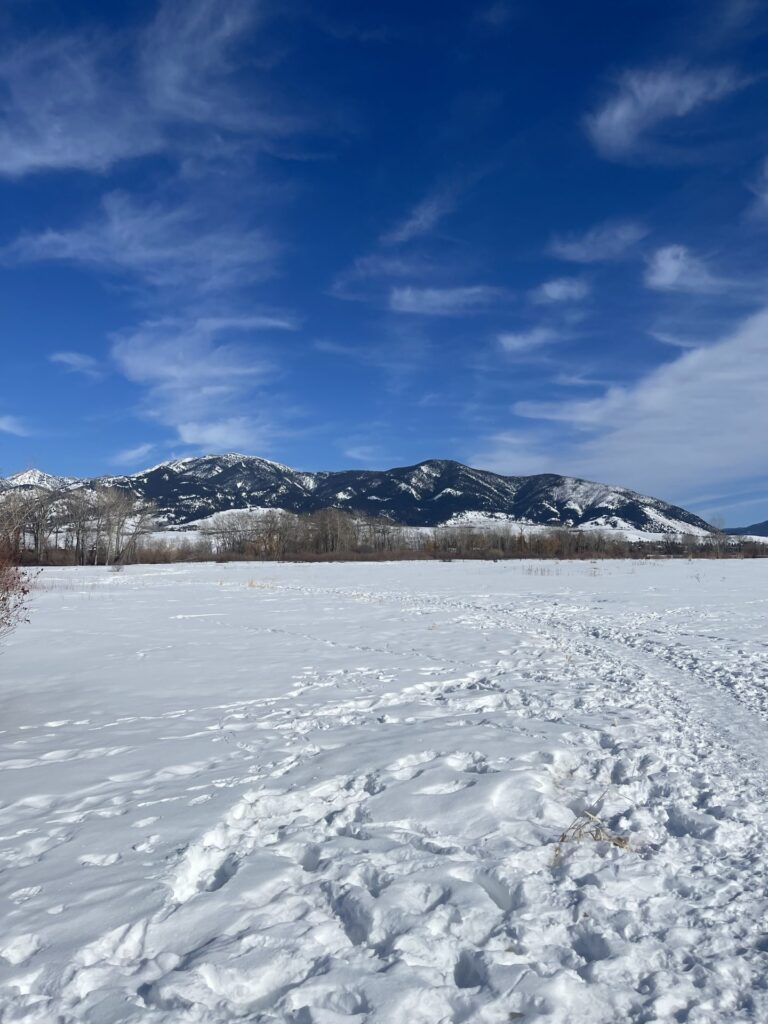 In Bozeman
Cherry River is a 1-mile route along the East Gallatin River – great for a quick winter stroll. It features spectacular bird sightings, beautiful views of the Bridger Mountains, and riverfront reflection. If you want to extend your walk, Cherry River connects to the East Gallatin Recreation Area trails for more options. https://gvlt.org/featured-trails/cherry-river/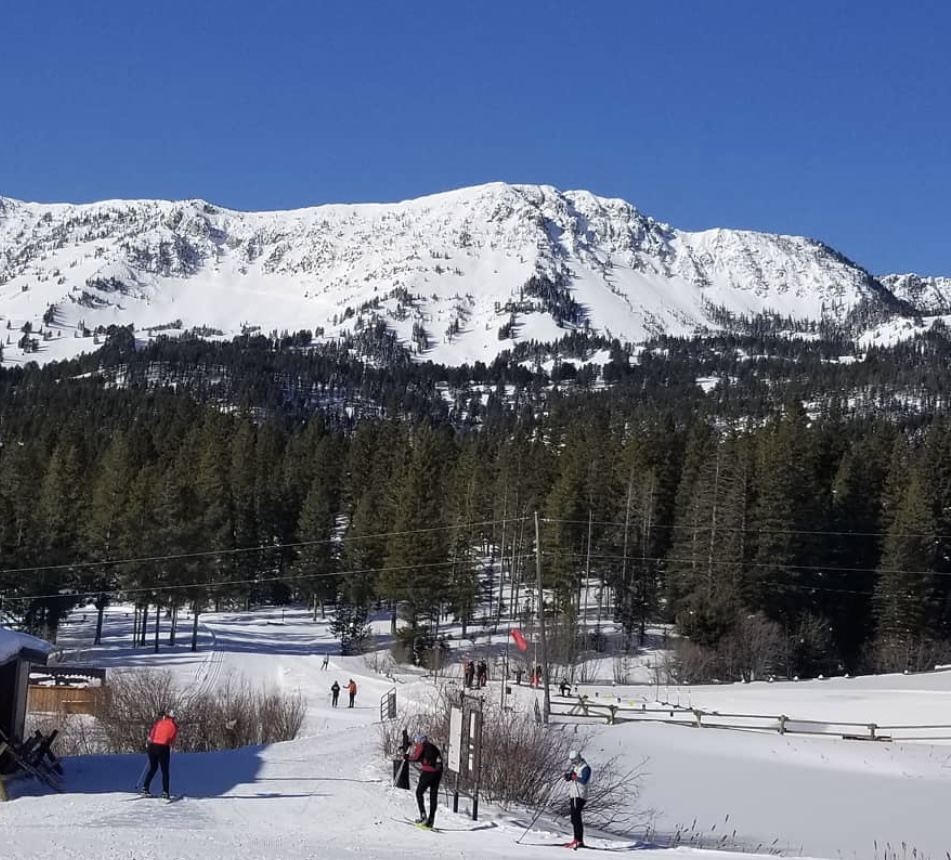 Crosscut Mountain Sports Center is located in Bridger Canyon just up the road from Bridger Bowl. With over 45km of cross country and narrow-gauge trails – Crosscut offers everything from classic XC and skate skiing, to snowshoeing, to fat biking -they even have an impressive biathlon arena. Dog companions are allowed during specific days and times.. https://www.crosscutmt.org/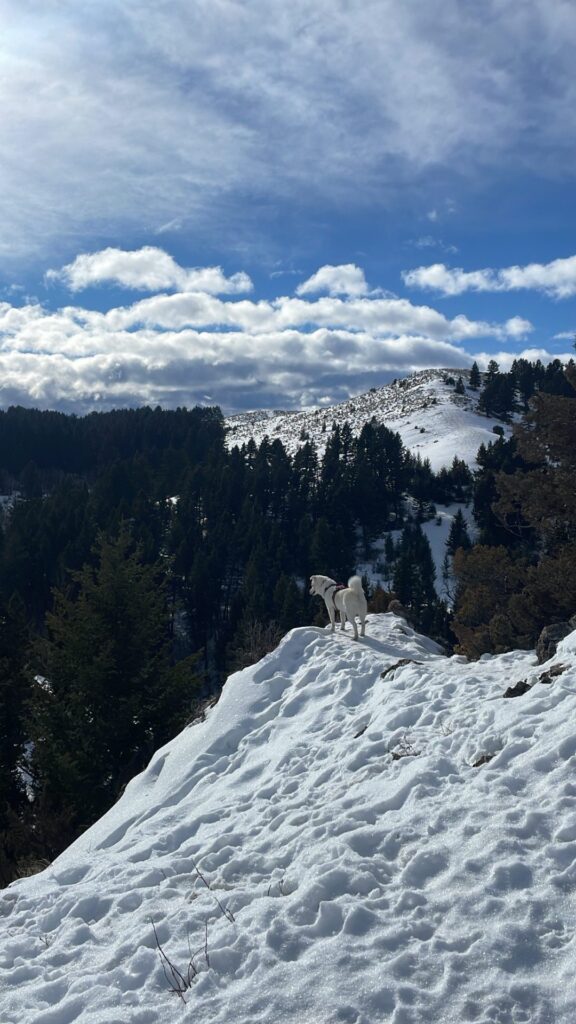 Located across from the 'M' trail, Drinking Horse Mountain is a local winter favorite. 2.2 miles round-trip, this trail features an 'easy' way as well as a steeper route. After you've gained 700 feet in elevation, you'll be able to look out into Bridger Canyon and along the Bangtails. Drinking Horse does have a few switchbacks and is often crowded – but don't let that hold you back from enjoying this beautiful winter stroll. Yaktrax or similar traction devices are recommended. https://gvlt.org/featured-trails/drinking-horse/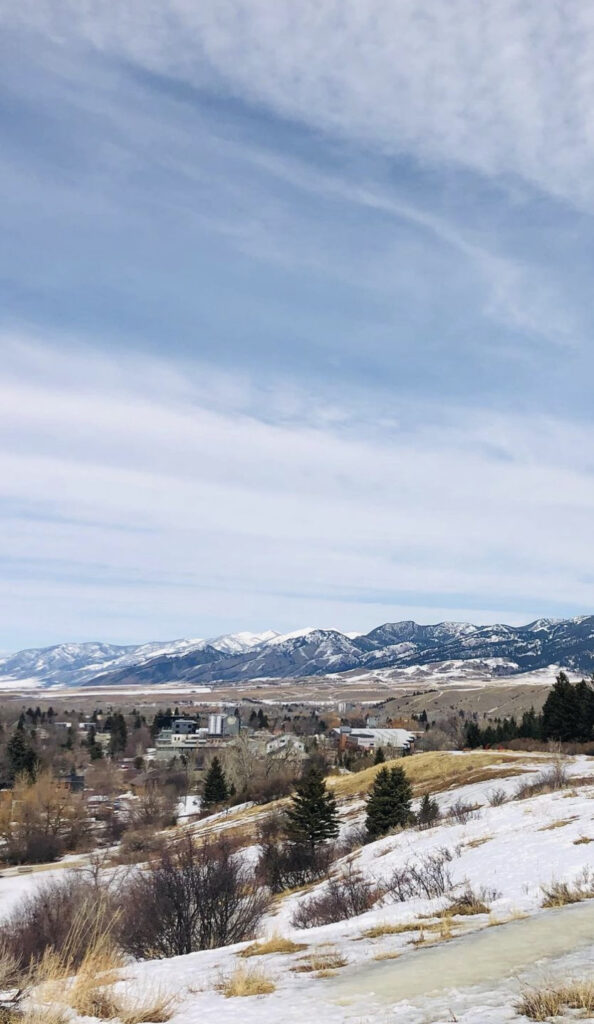 If you're looking for a stroll close to downtown Bozeman, check out Pete's Hill. Located just off of Main Street, Pete's Hill offers a short (1km) but somewhat steep hiking loop with 360-degree panoramic views of Bozeman. Bring your furry friend or your sled – Pete's Hill offers one of the best sledding hills in town! https://gvlt.org/featured-trails/peets-hill-burke-park/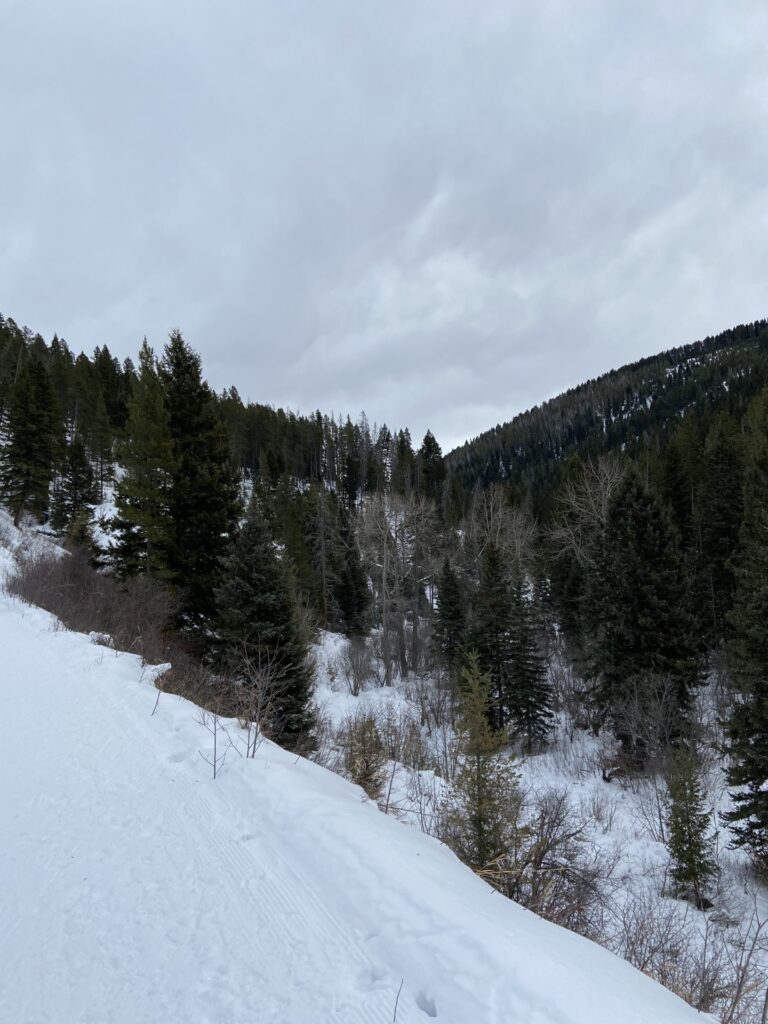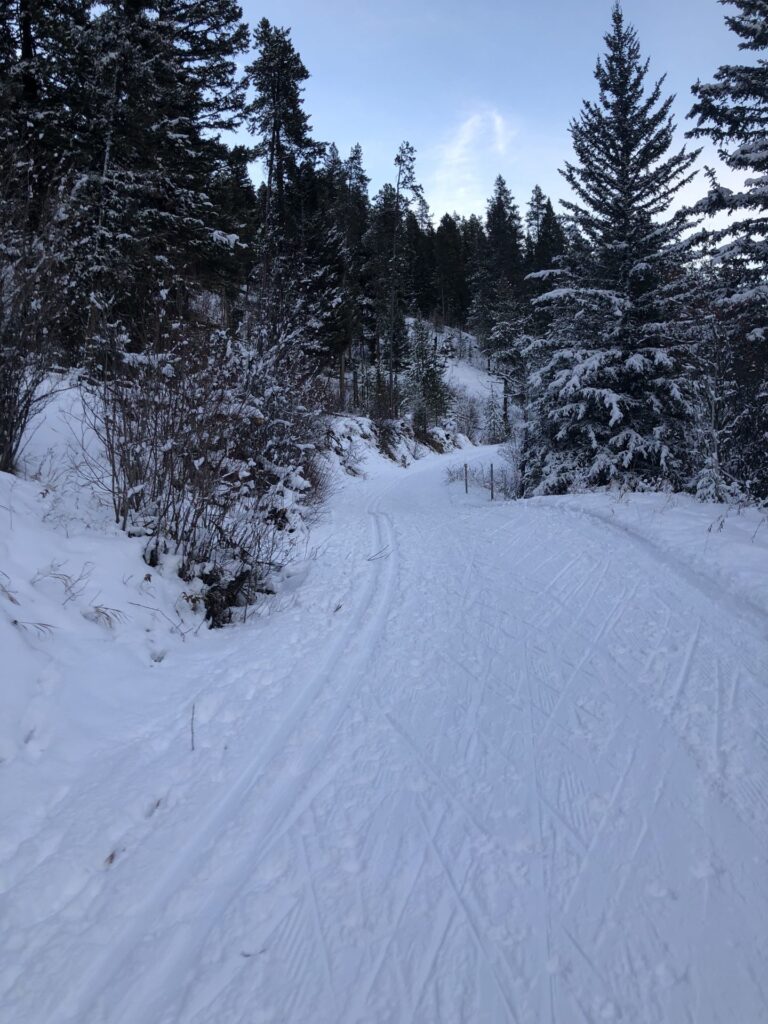 Whether you want to winter run, fat bike, skate ski or classic XC  ski, Sourdough Canyon Trail is a great option. Located off of Nash Road, Sourdough Canyon is an old logging road that parallels Bozeman Creek. You can continue on for as long as you'd like, but the intermediate trail runs 10 miles to Mystic Lake on a gentle incline. Dog friendly – but be prepared for the trail to be busy! https://gvlt.org/featured-trails/sourdough-canyon-trail/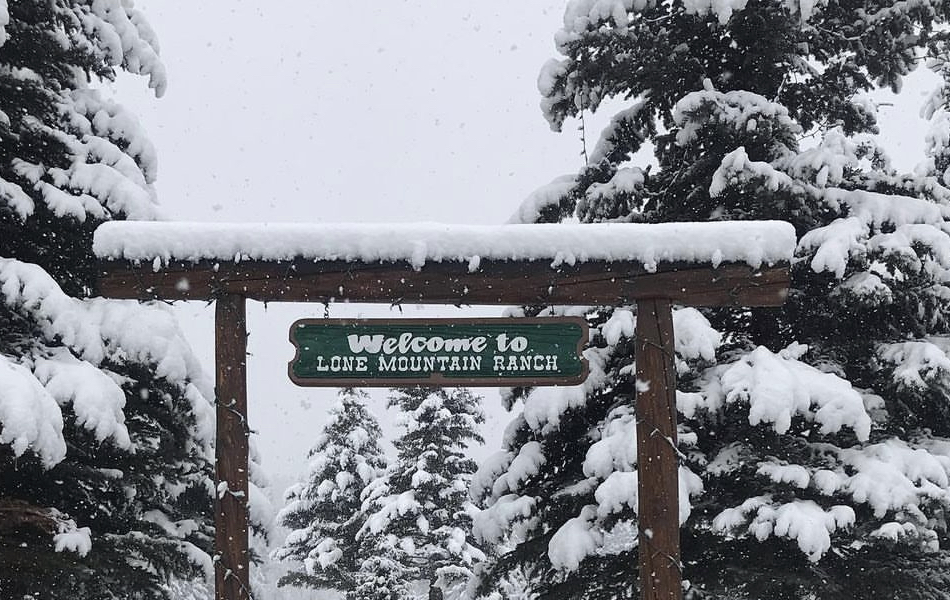 In Big Sky
Located in Big Sky, Lone Mountain Ranch is known for its overnight cabin amenities and delicious farm-to-table restaurant, but that's not all – Lone Mountain Ranch also offers over 85km of groomed skate and classic ski trails – suitable for all ability levels. Lone Mountain Ranch is a top-tier choice for a winter stroll or morning ski. https://lonemountainranch.com/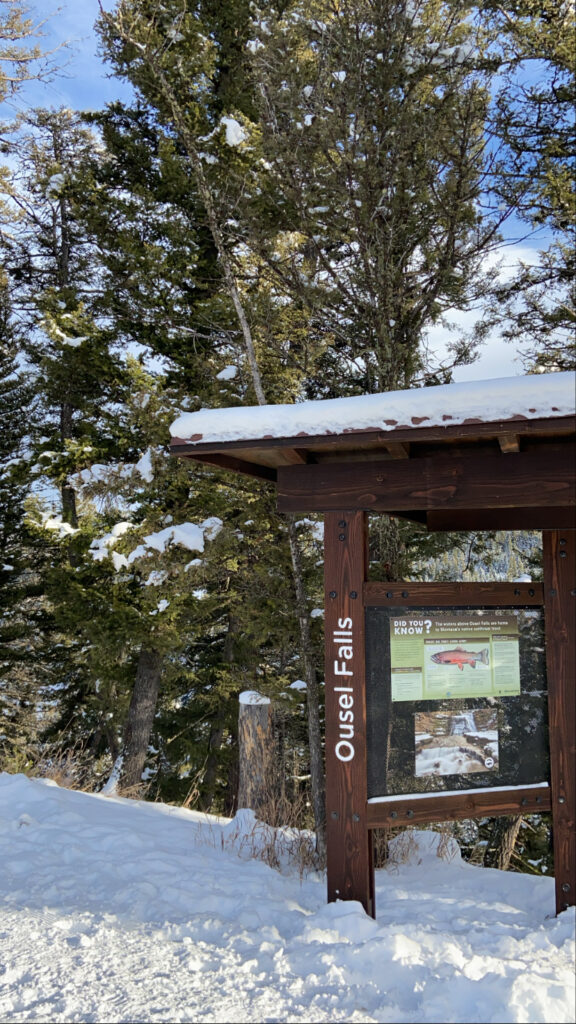 Ousel Falls Park Trail is a 1.6-mile round-trip excursion in Big Sky. Located off Ousel Falls Road, this winter stroll follows a winding trail, leading eventually to the base of a beautiful waterfall. Make sure to bring Yaktrax or other traction devices – the trail is often icy. For sledding enthusiasts, this trail also has some fun back-country sledding areas.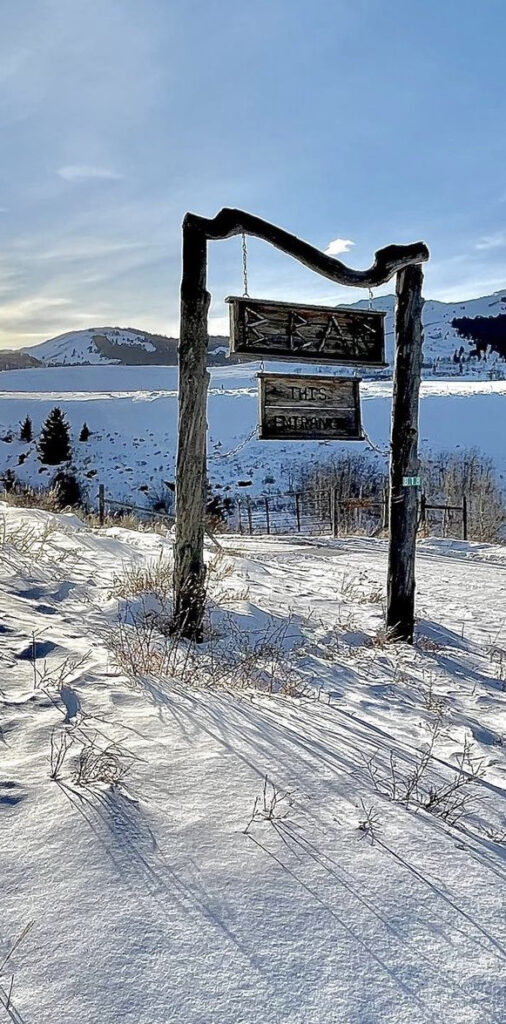 In Paradise Valley
B Bar Ranch is nestled in the Tom Miner Basin – about an hour and a half from Bozeman. The ranch features 20-30km of groomed classic and skate ski cross-country and snowshoeing trails, suitable for various skill levels. B Bar has three primary trail systems including Willow Way – a 6.5km loop that winds through willows, an open meadow, and a gorgeous aspen grove. There's also an option to prearrange guided ski and snowshoe tours if you're so inclined. https://www.bbar.com/