It's interesting to take a yearly cross section – an assessment if you will – of what the biggest hot button issues for a community are and then bundle them together for study. It gives across section of where a community stands in growth and involvement.  I found this article very enlightening – especially the part about the ramping up of letters received.  It seems that we have a healthy and thriving community that is dedicated to making their voices heard – and that is a good thing.
Hot topics: Bozeman's 2014 public comment by the numbers
by Eric Dietrich, Chronicle Staff Writer – Full article HERE>>
Democracy — or a slice of it — is stored in a city database.
As it turns out, the mail sent to the Bozeman City Commission by concerned residents doesn't just disappear into the ether when it's checked off commissioners' reading lists.
Instead, the correspondence, considered part of the public record, is dutifully filed by city clerks and — since the beginning of last year — uploaded to a publicly accessible archive on the city website.
It's by no means all the feedback received by the city's elected commissioners, who also have time designated for verbal public comment at their weekly meetings and say they spend a substantial amount of time talking to constituents less formally. But the archive's contents, now including more than 930 comments, nonetheless represent a significant fraction of the public input that drove local governance in 2014.
The resulting collection is a testament to the issues that entranced Bozeman's public interest last year — everything from decisions over the spending of a voter-approved trails and parks bond to the city's now-enacted non-discrimination ordinance and the acquisition of an armored vehicle by the Bozeman Police Department.
In smaller measure, 2014's public comments also paint a picture of local government's day-to-day work: neighbors concerned about zoning changes and housing developments; opinions of all stripes on everything from tree trimming to street repairs and, inevitably, taxes.
Bill Serdahely, for instance, wrote commissioners in July concerned about noise caused by Fourth of July fireworks that sounded "like mortar rounds and cannon fire." Leo McDonald asked the city to consider adopting an "anti-solicitation law." Charlene Knaack penned a three-page handwritten letter to express concerns about traffic congestion stemming from an above-garage apartment under construction across an alley from her home.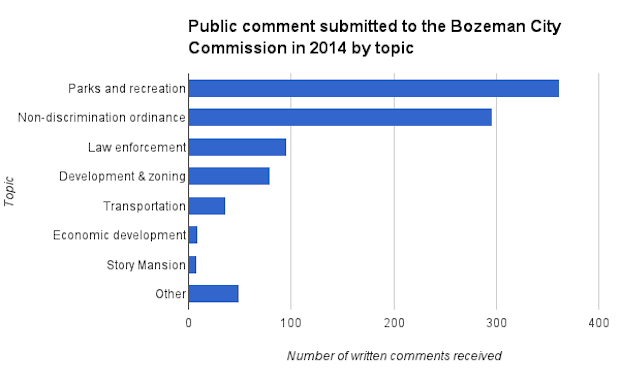 "Montanans have a constitutional right to participate in their government," said Commissioner Cyndy Andrus. "It's really important that people feel like they've been heard."
In the clause she referenced, the Montana Constitution guarantees "reasonable opportunity for citizen participation in the operation of the agencies prior to the final decision as may be provided by law."
"It's unlikely that you can make everyone happy," said Commissioner Chris Mehl, "but they should know they're treated with respect and seriousness.
"It's really important that people don't lose faith," he added.
That's not to say that public opinion is the only factor influencing commissioners' votes — or that volume of public opinion always carries the day.
After the revelation last year that the Bozeman Police Department had acquired a Lenco BearCat G3 armored vehicle, for instance, many Bozemanites responded with outrage, including calls for the vehicle to be returned. City clerks catalogued 80 written comments on the issue, most of them critical.
"You need to return that beast," wrote Phil Knight in one email. "We have better ways of dealing with conflict in Montana — like talking."
"We do not live in a police state and I suggest that those who wish to live in such a place move elsewhere rather than trying to create one here," wrote John Winnie Jr.
Regardless, the City Commission ultimately voted 4-1 in October to retroactively approve the vehicle's acquisition, with some restrictions. Mayor Jeff Krauss was the lone dissenter.
Commissioner I-Ho Pomeroy said she had planned to vote to send the vehicle back, but that she changed her mind as a result of public comment. At the time, she said she was swayed by testimony from the wives of police officers, who asked the commission to consider their husbands' safety.
"We all have to listen," she said this week. "We don't make decisions for ourselves."
"I wish I could have found a better way to connect with people on that issue," said Deputy Mayor Carson Taylor.
He noted that some of the restrictions placed by commissioners on the vehicle, like requiring accessory purchases to be approved by the commission and having the police chief report back after a year about how it has been used, were a direct response to public concerns.
"When I get an opinion that's factually incorrect — that's where the challenge is," Taylor said. Often, though, he said, it's possible to pull a nugget of wisdom from a comment even when someone has their information wrong.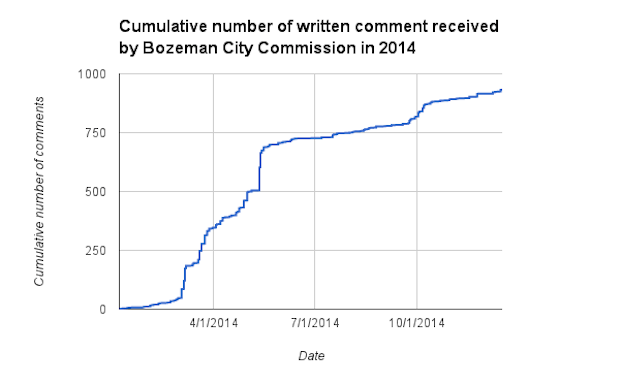 He pointed to people who were mistaken about whether the city had purchased accessories like a battering ram for the BearCat, as an example, saying the misconception did point to legitimate concerns over possible uses of the vehicle.
"I like to think that everybody has something to offer," Taylor said.
Mehl said he typically weighs public opinion along with his own experiences and recommendations made by city staff, among other factors.
"We're elected to make good decisions," he said. "It's not a referendum."
Bozeman's most commented-on issue in 2014 was not a hot-button controversy like the BearCat, but bread-and-butter community development work — spending money from the $15 million trails, open spaces and parks bond approved by voters in 2012.
A total of 362 comments were submitted to commissioners regarding parks and recreation, more than a third of 2014's total. The vast majority of those, 201 and 136 comments, respectively, addressed the Story Mill Park slated to straddle the East Gallatin River in northeast Bozeman and the city sports complex planned for the corner of Flanders Mill Road and Baxter Lane.
Albert and Jill Harting, for example, wrote commissioners in March in support of developing a facility suitable for lacrosse tournaments, while Ed and Stacey Tompkins asked commissioners to consider "The hundreds of families (who) leave town each weekend because we host so few sporting events here."
Ben Alexander wrote to support the Story Mill Park proposal, saying that "It would add tremendous value for us as a family to have these park lands both protected and enhanced, especially along the river."
"This is precisely the type of project I envisioned when I voted for the city's Trails, Open Space, and Parks bond," he continued.
Both park projects are now moving forward.
"I think people wanted to make sure we used the money wisely," Taylor said, noting the bond measure passed by a significant margin, with 73 percent of voters supporting it.
"It reflects why a lot of people are here," said Mehl. "They value the green space and they value the recreation."
On the whole, Mehl said, he's impressed by how polite most of the people who contact him are, whether it's through formal channels or things like being stopped on the street.
In all, he estimates that "far less than half" of the feedback he gets comes in as written comment.
Many of the people who reach out to him say they've never contacted a public official before, he also said. "Over the long run, there's a wide diversity of people."
"It's a true benefit," he said. "I learn a lot."
Residents can comment on city issues by emailing agenda@bozeman.net, through an online form at www.bozeman.net/Agenda, by letters hand-delivered to the City Clerk's office in City Hall or by regular mail to:
Attn: Mayor and Commissioners
City of Bozeman
P.O. Box 1230
Bozeman, MT 59771
Individual contact information for commissioners is as follows:
Mayor Jeff Krauss
406-582-2341
Deputy Mayor Carson Taylor
406-600-7140
Commissioner Chris Mehl
406-581-4992
Commissioner Cynthia Andrus
406-582-2383
Commissioner I-Ho Pomeroy
406-580-0824
Emails addressed to a quorum of the city commission (three or more members) are considered formal public comment.
The online database containing written comment submitted since Jan. 1, 2014, is at http://bit.ly/1yg0PYS. A Chronicle listing of comments by issue and comments, with links to items in the city database, is at http://bit.ly/1xBP6nR.