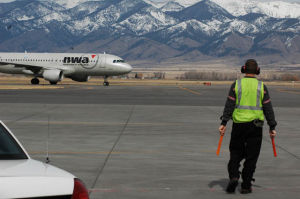 You can get here from there and there from here!  The ease of travel to and from Gallatin Valley is a bit of an insider secret. And the airport is only growing…. From the Belgrade News.
More people are flying in and out of the Bozeman Yellowstone International Airport than ever before. According to numbers released by Airport Director Brian Sprenger, nearly 3,000 more passengers boarded planes in Bozeman in January 2013 than January 2012.
"They are record numbers," Sprenger said. "We've had a strong winter season so far and that goes back to last year, too."
Almost 2,200 more flyers made the Bozeman airport their destination in January. In January 2012, 30,501 people arrived at the Bozeman Yellowstone International Airport. In January of this year, 32,687 deplaned at the airport in January.
February flight numbers weren't as strong as January, but there was about a 3.7 percent increase in passengers flying both to and from the airport. The Bozeman airport is, over a few years span, the fastest growing airport in the state.
"Last year we had 10 percent growth," Sprenger said. "That was a record over a previous record year."
In 2012, the Bozeman Yellowstone International Airport was the second fastest growing airport in Montana. In 2011, it had the most growth in the state. The Great Falls airport had the highest percentage of growth last year, but only accommodated about 190,000 outbound passengers. The Bozeman Yellowstone International Airport had more than 433,000 outbound passengers in 2012.
In the Gallatin Valley, United Airlines and Delta handled the bulk of flyer traffic, each accounting for 36 percent of the total numbers of passengers shuffling through the airport. Smaller airlines like Allegiant, Frontier and Alaska airlines each accommodated about 10 percent of travelers.
Delta and Frontier airlines were the only two airlines that saw fewer passengers deplane this year at the hometown airport than last year. Those losses in the first two months are relatively small. Delta had about 150 less passengers deplane in 2013 than years past. For Frontier airlines, about 300 fewer folks flew into Bozeman in January and February this year.
Overall, most airlines saw increases in both the arrival and departure categories. United Airlines started sending bigger planes to Bozeman and Sprenger said there hasn't been any difficulty filling those seats.
Some new destinations on the departures roster have helped boost numbers, too. The recently added summer flight service to Portland and New York/Newark were so popular last summer, Sprenger said they will be back again this summer.