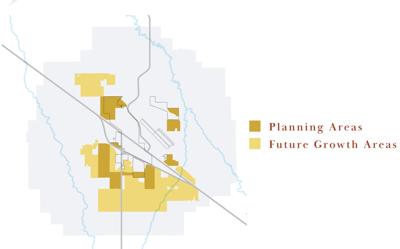 City rolls out growth policy
Comments sought on document to guide future development
BY DIANA SETTERBERG • STAFF WRITER Belgrade News Sep 26, 2019
The ink has dried on the final draft of a new Growth Policy plan for Belgrade, and the public is invited to weigh in on the completed document for the first time at the Belgrade City-County Planning Board meeting on Monday night.
Belgrade last adopted a growth policy in 2006, and much of the content of that document remains in the new proposed policy. However, the 2019 version, which will be adopted within the next few months, expands on the policy through a framework of goals and proposed new policies that would regulate building standards, land planning, transportation, and conservation practices in and outside of Belgrade.
Planning Director Jason Karp was unavailable to comment on the draft proposal this week, but in May told the Belgrade News that the document, once approved, will direct growth and development in the city for years to come.
The final document also will influence development projects within a 4½-mile radius around the incorporated municipal boundary. While such developments are subject to the approval of Gallatin County, county leaders heavily weigh the recommendations of the Belgrade City-County Planning Board when considering whether to approve, deny, or impose conditions on development projects within the 4 ½ mile city-county planning jurisdiction.
The new document combines relevant content from the 2006 growth policy document with other regulations, studies and plans that have been conducted in the vicinity in recent years. Those include Belgrade zoning regulations, the most recent Gallatin County Growth Policy, Four Corners Neighborhood Plan, Amsterdam-Churchill Neighborhood Plan, Belgrade to Bozeman Corridor Frontage Road study, and the Gallatin Triangle Planning Study.
It also draws heavily from citizen input, which was collected at public meetings and through various surveys while the plan was being formulated. Respondents overwhelmingly favored maintaining, improving and expanding parks, focusing on trails and recreation facilities, and addressing the issues of affordable housing, attracting retail business, and managing growth to maintain the city's rural aesthetic.
A separate Parks Plan has been developed in conjunction with the Growth Policy. Public comment will not be heard by the Planning Board on the Parks Plan on Monday night.
The draft Growth Policy includes a long list of primary goals, along with numerous suggestions for achieving each of them. The goals are listed below, along with some of the criteria being proposed to achieve each one. A full draft of the plan with complete detail can be viewed on the city's website at http://ci.belgrade.mt.us/
The policy's goals and objectives include:
• Providing efficient use of land for the public interest and environment considerations, achieved in part by giving priority to annexations adjacent to developed areas and discouraging distant unincorporated annexations, unless there is a clear path to contiguous annexation.
• Protecting agricultural industry and lands, as they contribute to Belgrade's rural atmosphere, sustainability and recreation. Among the methods listed for achieving the goal are using conservation easements, open space bonds, or similar regulatory tools, and preserving land with good soils and adequate water for agricultural development.
• Pursuing innovative and next-generation land use regulatory approaches, achieved in part by creating design standards for Main Street and the downtown area, and utilizing zoning standards to manage land use requirements that previously were regulated through covenants.
• Ensuring that the population within the city grows faster than in the unincorporated planning area. Ideas listed for achieving the goal include discouraging development in unincorporated areas and pacing growth so that infrastructure and public services are not overwhelmed.
• Providing adequate housing for moderate incomes in appropriate areas, in part by encouraging mixed-use building to promote new and innovative housing options downtown, identifying areas for rehabilitation of mobile homes and mobile home parks, and targeting developers who can supply low- to moderate-income housing.
• Providing adequate commercial areas for retail, light manufacturing and industrial areas by retaining existing businesses, expanding the clean industrial base with smaller businesses, renovating existing buildings that may cause public safety issues, and encouraging growth in the east, west and south commercial/industrial corridors.
• Promoting a vibrant and dense downtown Main Street with a mix of housing and business.
• Providing adequate local services efficiently and effectively. Measures would be taken to ensure that adequate funding and staffing for city services are in place, and evaluating impact fee policies to ensure that "growth pays for growth."
• Providing adequate, efficient and effective public facilities, in part through utility infrastructure development and by keeping school facilities in the core of Belgrade, where year-round uses might include night school, adult education, recreation, community functions, etc.
• Protecting surface and groundwater quality and availability, in part by providing potable water from public water systems rather than individual wells, mandating that developments in the county should provide for their own sewage and wastewater systems, and protecting riparian buffer zones in new subdivisions to preserve habitat and prevent flood damage and erosion.
• Providing for the free, safe movement of people throughout the planning area by coordinating new roads within subdivided land with other roads, implementing the 2017 Long Range Transportation Plan, and participating in countywide transportation plans.
Public comment on the plan will be taken at the Planning Board meeting on Monday, Sept. 30, at 7 p.m. at Belgrade City Hall, and again at the City Council meeting on Oct. 21.
Source: City rolls out growth policy