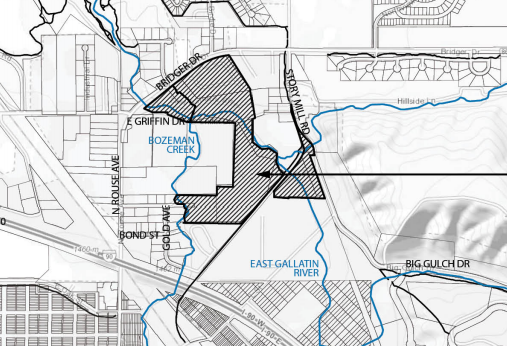 This is a great cooperation between private and public sectors to bring a beautiful new park opportunity online in our community. The affordable housing idea is also quite interesting – it will be good to see the plan on this once available. 
City adopts master plan for $12M Story Mill park
by Eric Deitrich November 7, 2016
The $12.1 million Story Mill Community Park project underway off Story Mill Road in northeast Bozeman got a freshly adopted master plan Monday evening, endorsed with the unanimous, enthusiastic approval of the City Commission.
Funded by $4.5 million in public money from the 2012 trails, open space and parks bond — as well as $7.6 million in private money raised by the nonprofit Trust for Public Land — the 60-acre property is poised to be a signature piece of Bozeman's park system, commissioners said.
Among the planned improvements: A two-acre "grand lawn" suitable for Frisbee and farmer's markets, an amphitheater, a sledding hill, teaching gardens, a climbing boulder and stream access along the East Gallatin River."God, this is a great park," said Mayor Carson Taylor shortly before the commission's vote. "I am going to give one enthusiastic 'Aye' when it gets to my turn."
"This is an incredible moment in the city of Bozeman's history," he said.
With the master plan formally approved, said city project manager Carolyn Poissant, TPL will move forward with soliciting bids for construction, hoping to begin work on most of the park improvements next summer with a grand opening planned in fall 2018.
Some portions of the project, like a dog park planned in the park's southeast corner, may be delayed depending on funding, Poissant said.
The park is also slated to include the Boys & Girls Club building on an adjacent parcel off Rouse Avenue, purchased by TPL earlier this year with the intent of donating it to the city. That building is intended for use as a community center, as well as potential office space for parks and recreation staff.
A northern portion of the park, along Rouse Avenue as it bends into Bridger Drive, is slated for higher-intensity uses, as well as the bulk of park improvements. A southern portion, bordering the Story Mill spur trail, will be kept in a more natural state focused on trails.TPL has also said it's looking at developing affordable housing on a portion of land it owns at the corner of Bridger and Story Mill. The nonprofit also completed a wetland restoration project earlier this year rehabilitating stretches of the East Gallatin and Bozeman Creek running through the park.
Source: City adopts master plan for $12M Story Mill park | City | bozemandailychronicle.com
Save