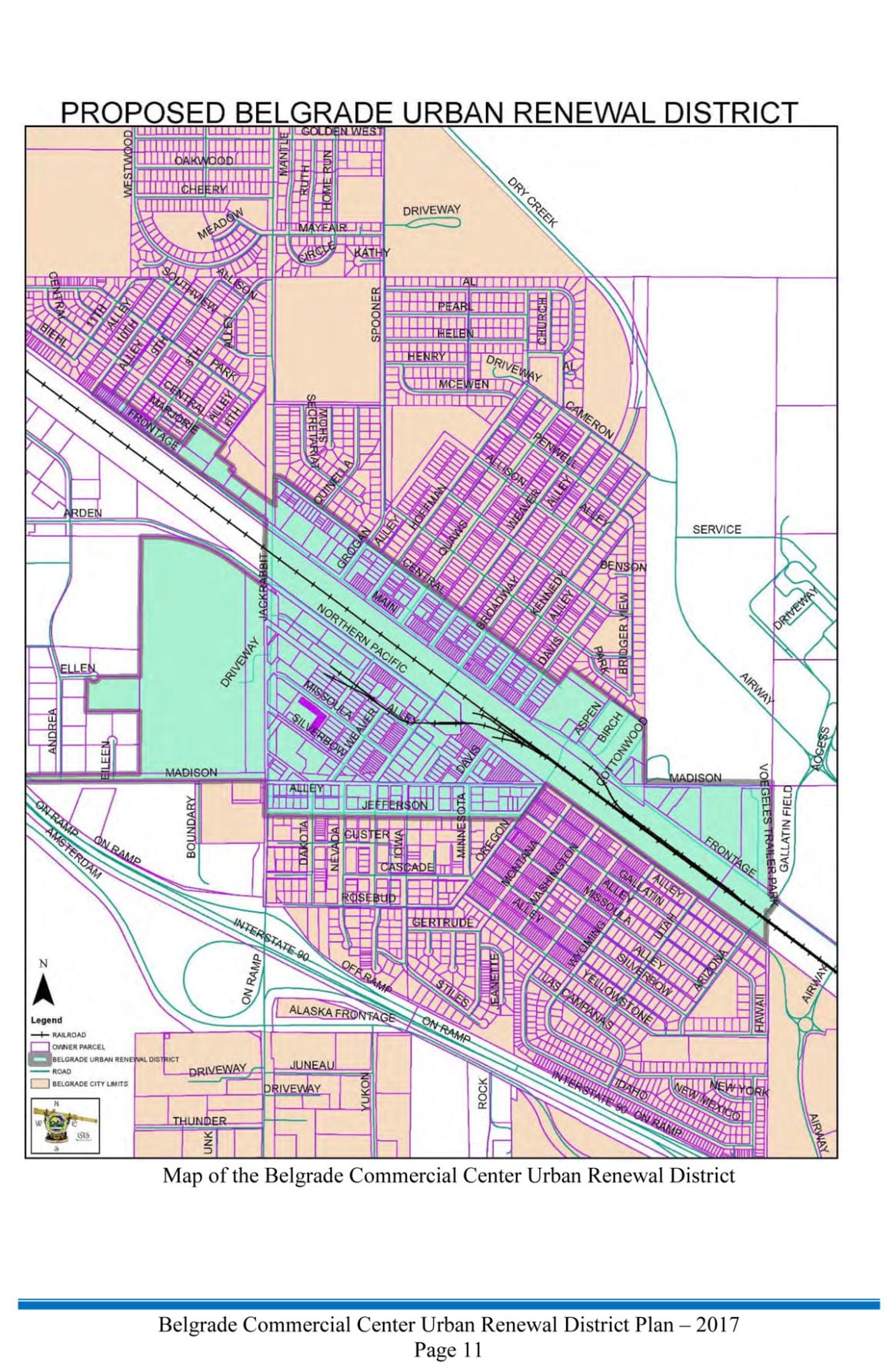 As a note, the council approved the TIF district in their last meeting.
Belgrade City Council approves boundary for TIF district
by Freddy Monares, staff writer Nov 9, 2017
Belgrade City Council is moving ahead with a plan to revitalize the city's downtown area.
On Monday, the council unanimously gave preliminary approval to the adoption of a special tax district that could bring investment to the downtown area. The tax increment finance district would put money from any additional property taxes collected after 2017 into an account to help pay for upgrades such as traffic signals, curb improvements and building upgrades.
At the meeting, the council was presented with defined boundaries of the district. The district from the north would include Golden West Drive down past Interstate 90 to just beyond south of Thunder Drive. The border stops just east of Andrea Drive and extends west to include portions of the Bozeman Yellowstone International Airport.
Belgrade City Manager Ted Barkley reiterated several times throughout the meeting that the implementation of the tax district does not mean property taxes would automatically increase. The county is charged with setting appraisal rates every two years, he said. The city contracted Janet Cornish, of Community Development Services of Montana, to prepare and walk the city through creating the TIF district. On Monday, Cornish fielded questions from the council and community members.
The TIF is the only tool, she said, that a city can use to create more investment, and increase contributions to the city's tax base. Cornish said in the end the whole community would benefit, not just the district.
"Tax Increment Financing does not raise taxes, it simply redistributes increases in revenues in a way that is focused in the areas of greatest need," she said. Details of the district are laid out in a 58 page "Belgrade Commercial Center Urban Renewal District Plan."
Included in those plans are four goals, which are promoting the redevelopment and revitalization in the downtown area; improve public infrastructure; foster economic growth; and encourage visual unifying elements. The district also includes residential neighborhoods, which had some neighbors concerned they would be forced out of their home in the future for redevelopment. Barkley eased those concerns during the meeting.
"To be clear, there is nothing about this action that would compel anyone to move out," he said.
Other community members asked how they could get involved in the planning of the special tax district. Cornish said many communities have created a small advisory council that can represent property owners, businesses or others that are interested in the downtown area.
"The involvement could include being on a task force or a committee that would have no governmental authority, but could offer suggestions to this body," she said.Council members will give final consideration to the special tax district at their Nov. 20 meeting at 7 p.m. at City Hall.
Barkley said the council is hoping to implement the plan by the end of this year.
Source: Belgrade City Council approves boundary for TIF district | Municipal | belgrade-news.com